Facilities
Lodge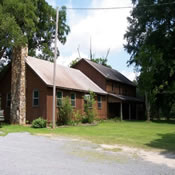 The lodge offers a large living area, dining area, and restrooms. There are 14 tables with 4 chairs at each table in the dining area for your dining pleasure.
Pavilion
Our Pavilion facilites are great for outdoor gatherings.
The pavilion offers approximately a 24' X 24' covered area. Tables and chairs can be set up for eating or the area can be used for weddings, meetings, etc. There are six eight foot tables and approximately 50 chairs available for your use.